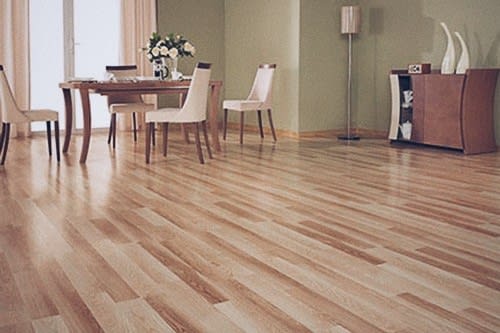 If you've chosen Karndean flooring for your  home, first off, congratualtions1 It's a fantastic product, and one of our favourite types of floor to install. And once you've had it installed and are enjoying it in your home, you will, of course, need to keep it clean. Because Karndean is a specialist type of flooring, you might think there are special instructions to keeping it clean – and you would be sort of right. But we promise, it's not as complicated as it seems. In fact, we've put together this little guide to caring for your Karndean flooring once it's installed in your home.
Home Floor Care For Karndean Floors
Keeping your Karndean floors clean is a wonderfully simple task. Unlike the materials Karndean replicates, this product has no grime or dirt traps, which means it doesn't show dirt as easily, and won't spoil over time like traditional floorings. It's also wonderfully low effort and environmentally friendly – there is no need to polish it at all, and so the number of chemicals you're using is minimal. Great for houses with pets or little children who are crawling around the floor!
We would recommend that to keep your Karndean looking like new, you avoid dragging or sliding heavy items across it, just as you would with any other floor. If you have particularly heavy furniture, putting some felt pads on the feet can help spread the weight and avoid any damage over time.
To clean Karndean floors, it's recommended that you use Karndean's own cleaning products, which have been specifically formulated to disinfect Karndean, remove stains and marks, and give it that new-look shine, all without nasty chemicals. Regular cleaning with this pH neutral cleaner will help keep your floor at its best, so this is what we recommend to all of our Karndean customers as well. And the good news is that we actually stock the Karndean cleaner in store, so you don't need to go far to get it, or rely on online ordering. Just pop in to see us and top up any time you need to!
Regular Cleaning Instructions
To clean your Karndean flooring, all you need to do is follow these simple instructions:
Sweep or vacuum it to get rid of any loose debris on the surface.
Add 50ml of Karndean Clean (up to 1 notch on the lid) to around 8-10 litres of clean, warm water.
Mop the solution on the whole floor, making sure to remove any excess when you are finished with one area.
Wait until the floor is dry before walking on it.
It really is that easy! Just like cleaning your normal floors, but using a different product. The Karndean Clean will also manage any stains or stubborn marks your floor might have picked up, so you don't need to mess around with different products. And it's so versatile that you could use it on all of your floors.
What NOT To Do
Karndean flooring is generally very hard-wearing and rugged – but there are still rules you need to follow to keep it looking it's best. One of those rules is how not to clean it. If you have a Karndean floor, you should not, under any circumstances, use a steam mop on it. Using a steam mop might make your floor look clean, but it will also cause damage to the flooring, the laminate coatings and the materials beneath. Over time, you will get discolouration, peeling coating and ultimately the steam will emulsify the adhesive used to fit it, meaning your whole floor will start lifting up. So, this is our warning to you – if you have a Karndean floor, make sure you don't put a steam mop anywhere near it. You should also avoid using bleach, or any cleaner containing bleach, on your Karndean floor, as this will cause a lot of damage.
At Floor24 we don't just install floors, we help you care for them too. When you're choosing your flooring our experts will go through the care instructions for it with you, making sure you know how to look after it and keep it looking brand new for as long as possible. If you have any questions about floor care, or Karndean products in particular, just get in touch with us today.