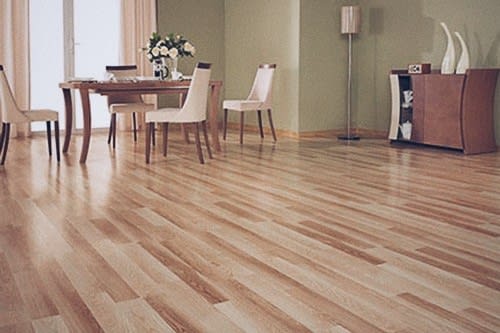 When it comes to flooring options, you have a lot of choices. From carpets to hardwood, laminates to vinyl tiles, you could get lost in our showroom as you look at all the different styles and materials – until you find the one that's right for you. But for people who love the look and feel of real wood floors, but don't want the hefty price tag and maintenance, there is only one thing we recommend – Karndean. Now, you might be wondering why we recommend this, and not the more well-known laminate options. So today we wanted to go into the differences between the two, and explain why Karndean is the more popular choice.
What Is Karndean?
Karndean is one of the leading manufacturers of vinyl flooring. They are known for their high-quality, luxury feel without being insanely high on price.
The product itself is a vinyl flooring product, made mainly from calcium carbonate (otherwise known as limestone), polyvinyl chloride and pigments.
One of the unique things about it is the structure. Each floor panel is made of 5 distinct layers:
2 PVC backing layers
1 high definition photographic layer
1 clear PVC embossed wear layer
1 Polyurethane protective top coating layer
This unique composition makes Karndean tough, slip resistant and long lasting, with the photographic layer offering a wider variety of colour and style choices that most other types of flooring.
How Is It Different From Laminate?
This is one of the main questions we get asked when we suggest Karndean as an alternative to laminate. The first and main difference is that Karndean is a type of vinyl, while laminate is a type of synthetic flooring made of resin and fibre boards. Laminate flooring often aims to look like wood, but the way it's made makes that very difficult to achieve, and you can always tell it isn't the real thing. Karndean on the other hand can mimic the look and feel of real wood in a number of colours and styles, so if you don't want to spring for real hardwood floors, it's your best option.
Laminates also have the issue of curling and shrinking. In some ways this makes it closer to real wood flooring, since it suffers from similar problems, but that doesn't help you when the edges of your floor are coming up! Karndean's unique structure means that each strip maintains its form for its entire lifespan, so your floor will never curl or shrink out of position. Laminates are particularly prone to this in wet rooms like bathrooms, where the moisture can peel back the top layer and cause damage beneath. Karndean addresses this too, since it's waterproof and won't delaminate on contact with water – so it's perfect for bathrooms, hallways and utility rooms.
In short, Karndean is more robust, better made and more attractive than most laminate options.
Why Is Karndean More Popular?
In case you haven't noticed, at Floor24 we are big fans of Karndean flooring, and our customers are too. We love it because of its superior quality, and just how hardwearing it is. It's also one of the quicker flooring options to install, which means our clients get their brand new floor much faster than if they were to choose another option. From a fitting point of view, Karndean also offers a range of design strips that can be added in between the main planks, along with decorative, tramline and keyline border options so that you can truly customise your floor down to the tiniest detail. No two Karndean installs are the same, which means we can offer a truly bespoke flooring solution for our customers. Not to mention the fact that Karndean comes with a lifetime guarantee, so if anything does happen to go wrong with it, you can get it fixed or replaced right away. If that's not good value, we don't know what is!
At Floor24 we supply and install a wide range of luxury vinyl flooring, including Karndean. We have options to give you the natural look of wood and stone flooring with the added day to day advantaged of luxury vinyl tiles. Stunning wood and stone effects are beautifully recreated with these tiles, which can be laid in a straightforward traditional way, or in any funky pattern you like! With every colour and style you can imagine available, luxury vinyl tiles like Karndean are the perfect way to design your flooring in exactly the style you want. To find out more, get in touch with the team today, or visit our showroom to see for yourself.