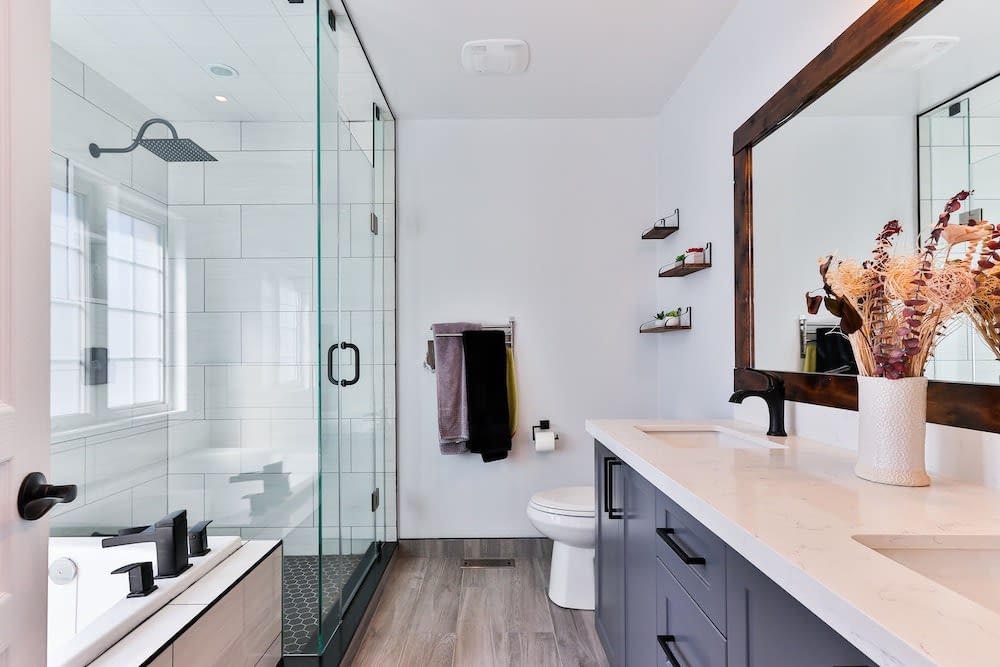 When it comes to designing a bathroom, there are a lot of things you need to think about, that you wouldn't usually in any other area of the house. The main thing is that everything inside it needs to be waterproof, and able to withstand steam, humidity and some very heavy foot traffic besides. After the entryway and your kitchen, the bathroom has one of the highest foot traffic rates in your house, so it's important you get flooring that is strong, sturdy and able to cope with anything. Which leaves a lot of people wondering – what is the best type of flooring for a bathroom? And how do I choose?
Vinyl (Luxury or Vinyl Tile)
Vinyl is another very common bathroom flooring option, and has been for many decades now. That's no real surprise, since it looks good and is very practical. Vinyl is best used in areas where you expect a large amount of water – so bathrooms, children's bathrooms or utility rooms. Depending on if you choose sheet or tile, you can have minimal to no seams on your installation, making it even more water-tight. And because it's so popular, there are thousands of style options to choose from. Whether you choose sheet vinyl or vinyl tiles though, is up to you. Vinyl tile and luxury vinyl are the options we usually recommend for any bathroom installation, as they are simple to install, look good and are 100% waterproof.
Pros: 
100% waterproof
Cost effective
Seams are waterproof
Easy to install and replace
Cons: 
Often has poor resale value
Installation quality depends on the quality of the subfloor and underlay
Safety Flooring
If you're looking for flooring in a wet room (rather than a full bathroom), then  safety flooring could be a good contender. This covers a range of materials, but refers specifically to the non-slip surface coating. These anti-slip flooring solutions often aren't 100% waterproof, so while not ideal for a main bathroom, wet rooms and cloakrooms could benefit from them.
Pros: 
Water resistant
Anti-slip, so reduces the risk of falls
Ranges from different suppliers
Cons:
Not fully waterproof
Some products can feel rough underfoot
Flooring to Avoid
Of course, there are some flooring types to avoid as well. There are certain materials that just don't do well with water or humidity, and will either get very dirty or damaged if used in a bathroom. Mainly:
Carpet: It should be fairly obvious why carpets in a bathroom is a bad idea. It is highly likely to get wet, and because carpeting retains moisture for so long, it won't be dry by the next day, when it's likely to get wet again. This creates mildew and mould, and is a breeding ground for all sorts of bacteria and smells. Plus, you'll always be walking on slightly damp carpet. So while you can have carpet in a bathroom, we generally recommend against it.
Solid Hardwood: Except for its top coating, solid hardwood has no protection against moisture at all. That means that even the smallest amount of moisture that works its way into the wood will eventually rot it out. So even if you do have it installed, it's not a long term solution, and will be expensive to replace.  
At Floor 24, we're always happy to advise on floors for your bathroom. We can help you choose a type or material, and provide you with a huge range of samples for colour and style to choose from, so you can find the perfect bathroom floor for you. If you would like to find out more, just get in touch with our team, visit our showroom (by appointment only), or enquire about our doorstep sample borrowing service.