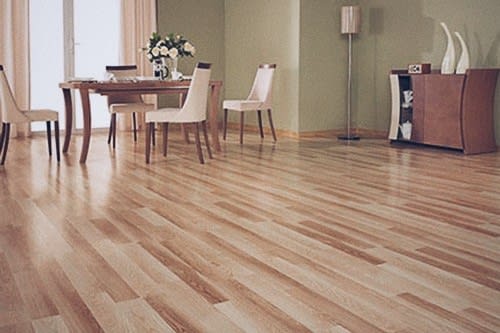 If you're looking to upgrade your home, you might be looking at Pinterest and seeing all of those nice, clean wooden floors and wanting one for yourself. And why wouldn't you? Wood flooring has a timeless look that gives homes a warm feel, while being easy to clean and difficult to damage. But there's almost too much information, to many options out there for you to make sense of, all with complicated and fancy brand names. So today we're going to strip it back a bit, and go through the different types of wood flooring you can get, and hopefully help you work out what will be best for you!
Solid Hardwood
Solid hardwood basically does what it says on the tin – it's solid wood, all the way through, from top to bottom. Really, it's similar to any other stick of lumber sawn straight off the log, with no additional materials added. You might have heard of it called 'hardwood' flooring as well.
Generally you can buy hardwood flooring in 2 types – unfinished or pre-finished. Unfinished hardwood tends to be a little bit cheaper, but that's because it requires some sanding, staining (if you want) and sealing during the installation process. This means you won't be able to walk on it right away to allow the sealant to dry, which can be difficult in high-traffic areas of the house. Whereas with prefinished all of that has already been done, and you can walk on it right away. It comes stained, sealed and ready to go right out of the box. It is slightly more prone to scratches and dents than other types of wood flooring, but the advantage is that it can be sanded and re-stained numerous times, so minor damage can be repaired fairly easily, giving it a very long lifespan
Solid hardwood needs to be nailed to the subfloor, and can't be installed straight onto concrete, or nailed on top of your existing floor. For this reason, solid hardwood is usually sold and installed by specialists, not general flooring suppliers. At Floor24 we don't supply or install solid hardwood floors – it's one of the few things we don't handle – but instead we have partners who can handle all hardwood floor requests.
Engineered Wood
Engineered wood is an exciting alternative to solid hardwood flooring, with all of the pros and none of the cons. It's essentially made by sandwiching some strong plywood board in between finish wood panels. The finish wood is what you see and walk on. While the plywood underneath makes up around 75% of the total flooring.
It's this plywood layer that makes it different from solid hardwood. Each ply runs perpendicular to it's adjacent ply, giving dimensional strength to the sandwich. This means that engineered wood flooring stands up well in areas with light moisture, like basements and bathrooms. It can also be installed in a variety of different ways. On top of the standard wood flooring installation techniques, the thinner types can be nailed down, thicker types can be installed as floating floors, giving you a lot of options to suit your individual rooms.
The main weakness of engineered wood is that thin top layer of finish wood on top. This can be sanded and re-stained if needed, but only by a professional to avoid damage, and the thinner varieties will need great care doing this. Deeper scratches and dents can't be sanded out, and would require a replacement board.
At Floor24 we do supply and install engineered wood flooring, and we would be happy to help you with any questions or requirements you have.
Laminate
Laminate flooring might look like wood, but it's a wolf in sheep's clothing – because it's not. At least, not in the way that solid hardwood and engineered wood are. Instead, laminate is made up of a thin top layer of resin-infused paper, laid on top of a wood-chip composite. So technically it is wood, but in the same way that cordials with 5% real fruit juice are 'juice'.
But we're including it here because it's an amazing, cost effective alternative to real wood flooring. The resin layer is essentially a photograph of wood, but even if you got down on your hands and knees and looked under a microscope, you still wouldn't be able to tell. And as well as looking identical to wood, it's a fraction of the price, since paper, resin and chipboard are much cheaper than actual wood. It's also scratch resistant, easy to install and replace, and comes in a wide variety of colours and 'wood' types, so you can achieve almost any look with it.
It's no wonder so many people choose it as an alternative to real wood flooring. At Floor24 laminate is one of our more popular flooring types, and we have a wide variety of options for you to choose from in our showroom.
If you would like to know more about your options for wood flooring, or want to look at some examples to choose your ideal floor, we would love to help. Just click here to book an appointment at our showroom, or contact us with a question here, and one of our flooring experts will be on hand to help.